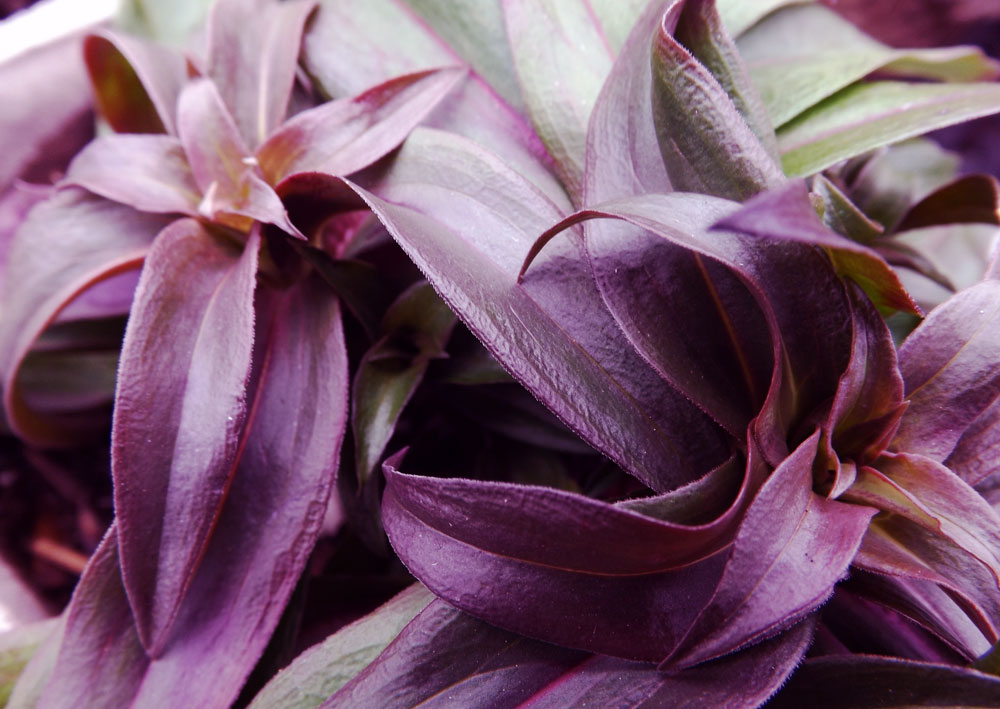 Perennials are so much to so many people. When people get tired of planting annuals each season, they turn to perennials to make their gardens come back stronger year after year. Nothing is quite so pleasing as watching well-rested perennials emerge from the warming soil in spring, or from the cooling, rain-moistened soil in fall. Keep them happy and they will bring you season after season of pleasure. This is a broad category, and really all of the plants we grow other than annual vegetables and herbs fit under it. This page, however, is dedicated to herbaceous perennials, or the soft fleshy sort, not the hard and woody sort. It is a big page with lots to see! Get your scrolling finger ready!

This page lists the perennials in our catalog by botanical name.
To search by common name, go to our alphabetical plant listing pages
or click on your selection below to learn more about the plant.
Abutilon hybridum 'La vie en Rose'
Dwarf Flowering Maple
Monardella villosa
Coyote Mint
Achillea millefolium
Common Yarrow
Muehlenbeckia axillaris
Creeping Wire Vine
Muhlenbergia capillaris
Pink Muhly
Achillea millefolium "Sunny Seduction"
Sunny Seduction Yarrow
Muhlenbergia rigens
Deer Grass
Achillea millefolium ''Red Velvet'
Red Velvet Yarrow
Nepeta faasenii-Dwarf
Dwarf Catmint
Achillea millefolium 'Terra Cotta'
Terra Cotta Yarrow
Nepeta faasenii 'Walker's Low'
Walker's Low Catmint
Achillea taygetaya 'Moonshine'
Moonshine Yarrow
Nepeta tuberosa
Spanish Catmint

Agastache 'Apricot Sunrise'
Apricot Sunrise Anise Hyssop
Oenothera caespitosa var. longiflora
Tufted Evening Primrose
Agastache 'Bolero'
Bolero Hummingbird Mint
Oenothera elata
Hooker's Evening Primrose
Agastache 'Golden Jubilee'
Golden Jubilee Anise Hyssop
Oenothera fruticosa 'Fireworks'
Fireworks Southern Sundrops
Agastache rupestris
Sunset Hyssop
Oenothera perennis
Little Evening Primrose
Allium schoenoprasum
Grassleaf Garden Chives
Opuntia humifusa
Low Prickly Pear
Allium schoenoprasm 'Forescate
Giant Garden Chives
Origanum aurea
Creeping Golden Marjoram
Allium senescens glauca
Corkskrew Onion
Origanum laevigatum 'Hopley's Purple'
Hopley's Purple Ornamental Oregano
Anthemis tinctora 'Susanna Mitchell'
Susanna Mitchell Dyer's Chamomile
Origanum marjorana
Sweet Marjorum
Aquilegia chrysantha
Golden Spur Columbine
Origanum rotundifolium
Roundleaf Oregano
Armeria maritima 'Alba'
White Blooming Sea Thrift
Origanum rotundifolium 'Kent Beauty'
Kent Beauty Oregano
Artemesia pycnocephala 'David's Choice'
David's Choice Sandhill Sage
Penstemon cardinalis
Cardinal Penstemon
Asclepias fascicularis
Narrow Leaf Milkweed
Penstemon eatonii
Firecracker Penstemon
Asclepias speciosa
Showy Milkweed
Penstemon heterophyllus 'Catherine de la Mare'
Foothill Penstemon
Baptisia australis
False Indigo
Penstemon heterophyllus
'Margarita BOP'
Margarita BOP Foothill Penstemon
Bergenia cordifolia
Pigsqueak
Penstemon laetus
Gay Penstemon
Bidens aurea 'Hannay's Lemon Drop'
Hannay's Lemon Drop
Penstemon newberryi
Mountain Pride
Briza media
Quaking Grass
Penstemon newberryi 'St. Helena'
St. Helena Mountain Pride
Brodiaea laxa 'Corrina'
Ithurial's Spear, Fool's Onion', Grass Nut
Penstemon palmeri
Shell Penstemon
Calylophus berlandieri
Texas Sundrops
Penstemon pinifolius 'Mersea Yellow'
Mersea Yellow Pineleaf Penstemon
Canna x generalis
Common Canna
Penstemon procerus
Pincushion Penstemon
Carex albula 'Frosted Curls'
Frosted Curls New Zealand Sedge
Penstemon rostriflorus
Bridge Penstemon
Carex divulsa
Berkeley Sedge

Penstmon rydbergii
Meadow Penstemon
Carex platyphylla
Blue Satin Sedge
Penstemon strictus
Rocky Mountain Penstemon
Caryopteris x clandonensis
Bluebeard
Penstemon whippleanus
Dusky Penstemon,
Whipple's Penstemon

Caryopteris incana
Autumn Blue Spirea

Phlomis russeliana
Jerusalem Sage
Centranthus ruber 'Albus'
White Jupiter's Beard

Phygelius x rectus
Cape Fuchsia
Coreopsis verticillata 'Moonbeam'
Moonbeam Threadleaf Coreopsis
Phygelius aequalis 'Yellow Trumpet'
Yellow Cape Fuchsia
Crocosmia x crocosmiiflora 'Emberglow'
Emberglow Crocosmia
Phyla nodiflora
Turkey Tangle Frogfruit
Crocosmia x crocosmiiflora 'George Davidson'
George Davidson Crocosmia
Plantago major 'Rubra'
Giant Purple Leaf Plantain

Cynara cardunculus
Cardoon
Polystichum munitum
Western Sword Fern
Cynara scolymus 'Green Globe'
Green Globe Artichoke
Potentilla thurberi 'Monarch's Velvet'
Monarch's Velvet Cinquefoil

Cynara scolymus 'Purple of Romagna'
Artichoke, Purple of Romagna

Prunella vulgaris spp. lanceolata
Self-Heal
Cynara scolymus 'Violette du Provence'
Violette du Provence purple Artichoke
Rheum x hybridum 'Victoria'
Rhubarb, Victoria
Cylindropuntia imbricata
Tree Cholla
Rosularia sedoides
Rosularia

Delosperma cooperi
Hardy Ice Plant

Rudbeckia fulgida ' Goldsturm'
Goldsturm Black-Eyed Susan
Delospema P001s
Vivid Hardy Ice Plant
Rumex sanguineum 'Raspberry Dressing'
Red Veined Sorrel
Dianthus barbatus nigrscens 'Sooty'
Sooty Sweet William
Salvia apiana
White Sage
Dianthus cruentus
Blood Pinks
Salvia azurea grandiflora
Prairie Sage
Dianthus gratianopolitanus 'Crimson Treasure'
Cheddar Pinks
Salvia 'Bee's Bliss
Bee's Bliss Creeping Sage
Digitalis grandiflora
Perennial Foxglove
Salvia chamaedryoides
Germander Sage
Echinacea purpurea
Purple Coneflower
Salvia clevelandii
Cleveland Sage

Equisetum hymale
Horsetail
Salvia clevelandii 'Pozo Blue'
Pozo Blue Sage
Erigeron glauca 'Wayne Roderick'
Seaside Daisy
Erigeron karvenskianus
Santa Barbara Daisy
Salvia coahuilensis
Coahuila Sage
Erysimum 'Bowles Mauve'
Bowles Mauve Wallflower
Salvia forskaohlei
Indigo Woodland Sage
Erythronium tuolumnse x californicum 'Pagoda'
Fawn Lily, Trout Lily, Dog Tooth Violet

Salvia gregii 'Pink'
Pink Autumn Sage
Euphorbia characias
Mediterranean Spurge
Salvia greggii 'Red'
Red Autumn Sage
Euphorbia martinii 'Red Martin'
Red Martin Spurge
Salvia x jamensis 'Hotlips'
Hotlips Sage
Festuca glauca 'Elijah Blue'
Elijah Blue Fescue
Salvia x jamensis 'Sierra de San Antonio'
Sierra de San Antonio Sage
Filipendula hexapetala (vulgaris)
Meadowsweet
Salvia microphylla 'Smoky Red'
Little Leaf Sage

Foeniculum vulgare rubrum 'Smokey'
"Smokey"Bronze Leaf Fennel
Salvia officinalis 'Berggarten'
Berggarten Garden Sage
Fragaria californica
Woodland Strawberry
Salvia officinalis 'Purpurea'
Purple Leaf Sage
Gaillardia aristata 'Burgundy'
Burgundy Blanket Flower
Salvia sclarea var turkestanica alba 'Vatican White'
Vatican White Clary Sage
Gaura lindheimeri 'Whirling Butterflies'
Whirling Butterflies

Salvia spathaceaHummingbird Sage
Geranium cantabrigiense 'Rosalina'
Rosalina Crane's Bill
Salvia Transylvanica
Transylvanian Sage
Geum chiloensis 'Mrs. Bradshaw'
Mrs. Bradshaw Avens
Sanguisorba minor
Salad Burnet
Geum 'Mango Lassi'
Mango Lassi Geum

Santolina rosmarinifolia 'Lemon Fizz'
Lemon Fizz Lavender Cotton
Helenium autumnale 'Red & Gold'
Helen's Flower
Saponaria officinalis
Soapwort
Helianthemum 'Ben Hope'
Ben Hope Sunrose
Satureja montana
Winter Savory
Helianthemum 'Henfield Brilliant'
Sunrose
Scabiosa caucasica 'Fama'
Pincushion Flower
Helianthus 'Lemon Queen'
Lemon Queen Perennial Sunflower'
Scabiosa columbaria 'Pink Mist'
Pink Mist Pincushion Flower
Helleborus hybridus
Hybrid Lenten Rose
Sedum 'Autumn Joy'
Autumn Joy Stonecrop
Hesperoyucca whipplei
Our Lord's Candle
Sedum 'Bertram Anderson'
Bertram Anderson Stonecrop
Heuchera x briziodes 'Bressingham Hybrids'- Coral
Coral Bells

Sedum dasyphyllum 'Major'
Corsican Stonecrop
Heuchera micrantha
Alum Root
Sedum 'Frosty Morn'
Autumn Stonecrop

Hibiscus lasiocarpos
California Hibiscus
Sedum moranense
Red Stonecrop
Hoita macrostachya
Leather Root
Sedum obtusatum
Sierra Stonecrop
Hymenoxys hoopesii
Owl's Claws
Sedum rupestre 'Angelina'
Angelina Stonecrop

Hyssopus officinalis
Hyssop
Sedum spathulifolium 'Cape Blanco'
Cape Blanco Stonecrop
Iris douglasiana
Douglas Iris
Sedum spectabile 'Matrona'
Matrona Stonecrop

Iris germanica
German Bearded Iris

Sedum sediforme
Pale Stonecrop
Iris missouriensis
Western Blue Flag Iris

Sedum sieboldii
October Daphne
Iris -Pacific Coast Hybrids-'Canyon Snow'
Canyon Snow Pacific Coast Iris
Sedum 'Vera Jameson'
Vera Jameson Stonecrop
Iris -Pacific Coast Hybrids-'Nearly Black'
Nearly Black Pacific Coast Iris
Sempervivum arachnoideum
Cobwb Houseleek
Juncus effusus
Soft Rush
Sempervivum calcareum
Calcareum Hens and Chicks

Keckiella cordifolia
Heart Leaf Penstemon
Sempervivum 'Jade Rose'
Jade Rose Hens and Chicks
Knautia macedonica
Knautia
Sempervivum 'Pileosum'
Pileosum Hens and Chicks
Kniphofia 'Border Ballet'
Border Ballet Torch Lily
Sempervivum 'Ruby Heart'
Ruby Heart Hens and Chicks
Lamium galeobdelon
Yellow Archangel
Sempervivum tectorum 'Rubrum'
Hens and Chicks
Lavandula angustifolia 'Hidcote'
Hidcote English Lavender
Sempervivum ' Twillight Blues'
Twillight Blues Hens and Chicks
Lavandula angustifolia 'Purple Bouquet'
Purple Bouquet English Lavender
Sisyrinchium bellum 'Rocky Point'
Rocky Point Blue Eyed Grass
Lavandula x chaytorae 'Lisa Marie'
Lisa Marie Dwarf English Lavender
Solidago canadensis
Canada Goldenrod
Lavandula ginginsii 'Goodwin Creek Gray'
Goodwin Creek Lavender
Lavandula x intermedia 'Alba'
White Grosso Lavendin
Stipa tenuissima
Mexican Feather Grass
Lavandula x intermedia 'Grosso'
Grosso Lavandin
Teucrium x Ackermanii
Silver Germander
Lepechinia hastata
Baja Pitcher Sage
Teucrium cossoni-majoricum
Creeping Germander
Lespedeza virginica
Slender Bush Clover

Teucrium flavum
Yellow Germander
Lewisia cotyledon 'Sunset Strain'
Sunset Strain Cliffmaids
Teucrium hyrcanicum 'Purple Tails'
Caucasian Germander
Lilium pardalinum
Leopard Lily
Thymus citriodora
Lemon Thyme
Limonium latifolium
Sea Lavender, Perennial Sea Statice
Thymus longicaulis
Turbo Thyme
Linum perenne lewisii
Blue Flax
Thymus vulgaris
English Thyme
Lysimachia atropurpurea 'Beaujolais'
Gooseneck Loosestrife
Triteleia laxa 'Corrina'
Ithurial's Spear, Fool's Onion', Grass Nut
Melissa officinalis
Lemon Balm
Verbena bonariensis
Purple Top Vervain
Mentha piperata
Peppermint
Zauschneria californica
California fuchsia
Mentha suavolens variegata
Pineapple Mint
Zauschneria californica 'Catalina'
Catalina California Fuchsia
Mimulus aurantiacus
Sticky Monkey Flower
Zauschneria californica 'Solidarity Pink'
Solidarity Pink California Fuchsia
Mimulus cardinalis
Scarlet Monkey Flower
Zauschneria latifolia
(Epilobium latifolium)
California Fuchsia
Miscanthus sinensis 'Adagio'
Adagio Maiden Grass
Monardella macrantha
Scarlet Monardella
Monardella odoratissima
Mountain Pennyroyal