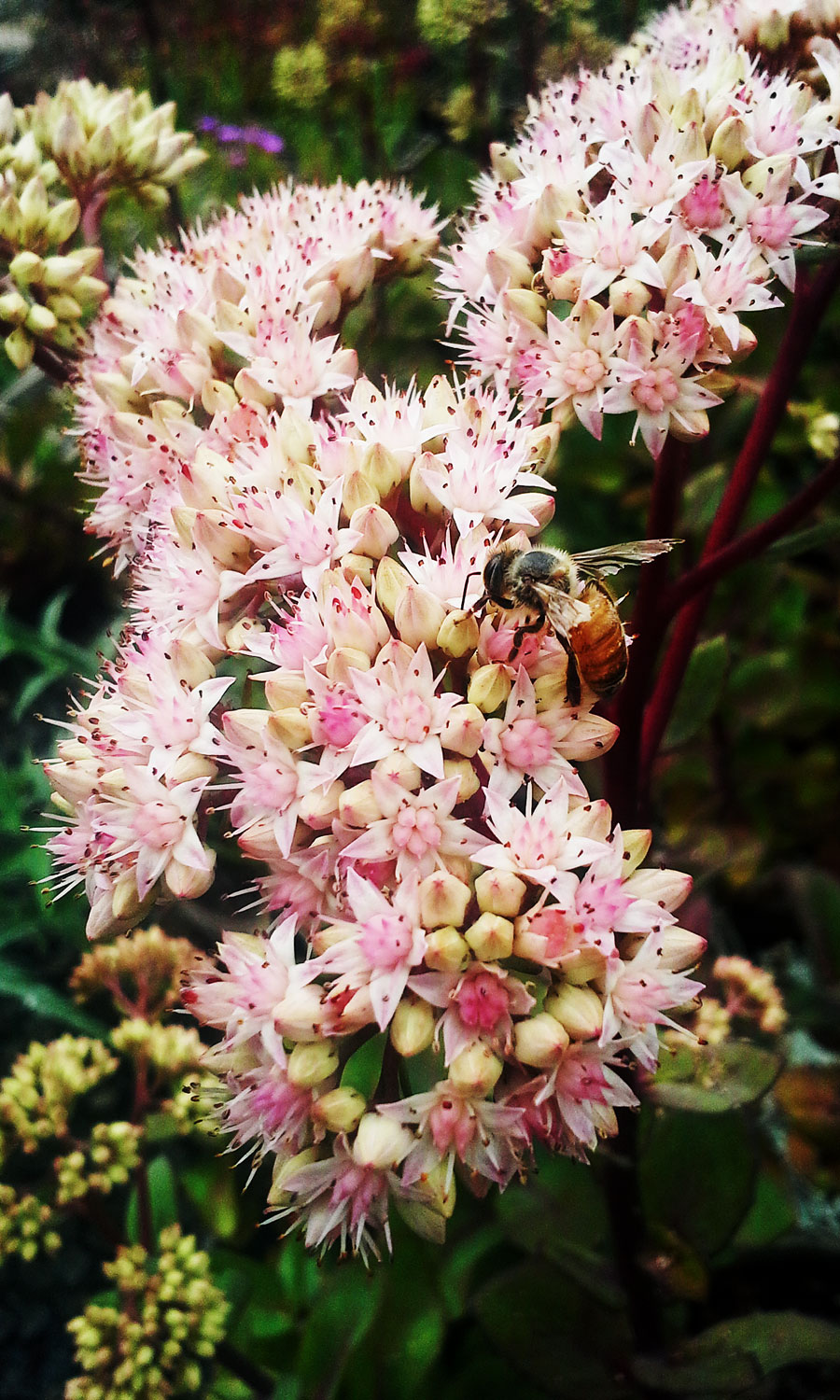 In their determined search for nourishment, pollinating species, including bees, hummingbirds, and butterflies, hungrily dip into nectar-laden flowers, unwittingly brush up against recieving stigma, and in so doing tranfer pollen grains from one plant to another. This simple act of fertilization allows flowering plants to produce seed, often in the form of a fruit or vegetable. Through this process, pollinators are responsible for much of the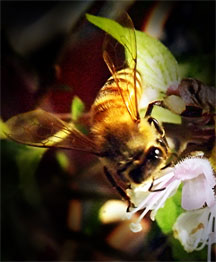 food we eat. Vegetables and fruit that have been visited by pollinators grow larger and more flavorful. In fact, without pollinators, the bountiful gardens we all love would become an unreachable goal. As pollinator populations decline, it is important to include food sources for these essential creatures in our yards to help supply them with ample habitat and do all we can to ensure their survival. Plant several of your chosen plants to better draw pollinators from farther distances and remember to plant for a variety of bloom shapes, colors, and seasons to provide a steady source of food for pollinators. Your garden will love you for it!


Below are listed some of the best pollinator attractors we grow.
Click on your selection to learn more about the plant.

Achillea millefolium
Common Yarrow
Oenothera caespitosa var. longiflora
Tufted Evening Primrose
Oenothera elata
Hooker's Evening Primrose
Achillea millefolium 'Red Velvet'
Red Velvet Yarrow
Oenothera fruticosa 'Fireworks'
Fireworks Southern Sundrops
Achillea millefolium "Sunny Seduction"
Sunny Seduction Yarrow
Oenothera perennis
Little Evening Primrose
Achillea millefolium 'Terra Cotta'
Terra Cotta Yarrow

Opuntia humifusa
Low Prickly Pear
Achillea taygetaya 'Moonshine'
Moonshine Yarrow
Origanum laevigatum 'Hopley's Purple'
Hopley's Purple Ornamental Oregano
Agastache 'Apricot Sunrise'
Apricot Sunrise Anise Hyssop
Origanum marjorana
Sweet Marjorum
Agastache 'Bolero'
Bolero Hummingbird Mint
Origanum rotundifolium
Roundleaf Oregano
Agastache 'Golden Jubilee'
Golden Jubillee Anise Hyssop
Origanum rotundifolium 'Kent Beauty'
Kent Beauty Oregano
Agastache rupestris
Sunset Hyssop
Penstemon cardinalis
Cardinal Penstemon
Allium schoenoprasum
Grassleaf Garden Chives
Penstemon eatonii
Firecracker Penstemon
Allium senescens glauca
Corkskrew Onion
Allium shoenoprasm 'Forescate
Giant Garden Chives
Penstemon heterophyllus 'Catherine de la Mare'
Foothill Penstemon
Amelanchier alnifolia
Western Service Berry
Penstemon heterophyllyus
'Margarita BOP'
Margarita BOP Foothill Penstemon
Amorpha fruticosa
Indigo Bush
Penstemon laetus
Gay Penstemon
Anethum gravolens
Dill
Penstemon newberryi 'St. Helena'
St. Helena Mountain Pride
Aquilegia chrysantha
Golden Spur Columbine
Penstemon newberryi
Mountain Pride
Asclepias fascicularis
Narrow Leaf Milkweed
Penstemon pinifolius 'Mersea Yellow'
Mersea Yellow Pineleaf Penstemon
Asclepias speciosa
Showy Milkweed
Penstemon procerus
Pincushion Penstemon
Baccharis pilularis 'Pigeon Point'
Pigeon Point Dwarf Coyote Bush




Penstemon rostriflorus
Bridge Penstemon
Baptisia australis
False Indigo
Penstmon rydbergii
Meadow Penstemon

Berberis thunbergii 'Aurea'
Golden Barberry
Penstemon strictus
Rocky Mountain Penstemon
Berberis thunbergii 'Concorde'
Concorde Japanese Barberry
Penstemon whippleanus
Dusky Penstemon,
Whipple's Penstemon
Berberis x gladwynensis 'William Penn'
William Penn Evergreen Barberry
Phlomis russeliana
Jerusalem Sage
Bergenia cordifolia
Pigsqueak
Phygelius x rectus
Cape Fuchsia
Borago officinalis
Borage
Phygelius aequalis 'Yellow Trumpet'
Yellow Cape Fuchsia
Calylophus berlandieri
Texas Sundrops, Berlandier's Sundrops
Caryopteris incana
Autumn Blue Spirea
Phyla nodiflora
Turkey Tangle Frog Fruit
Caryopteris x clandonensis
Bluebeard

Prunella vulgaris spp. lanceolata
Self-heal

Ceanothus 'Dark Star'
Dark Star California Lilac

Punica granatum 'Wonderful'
Pomegranate, 'Wonderful

Ceanothus gloriosus 'Anchor Bay'
Anchor Bay California Lilac
Ribes aureum
Golden Currant
Ceanothus 'Joyce Coulter'
Joyce Coulter California Lilac
Ribes malvaceum 'Dancing Tassels'
Dancing Tassels Chaparral Currant
Centranthus ruber 'Albus'
White Jupiter's Beard
Ribes Nevadense
Sierra Currant
Cercis occidentalis
Western Redbud
Ribes sanguineum glutinosum
Pink Flowering Currant
Chaenomeles speciosa
Flowering Quince
Ribes speciosum
Fuchsia-Flowered Gooseberry
Chilopsis linearis
Desert Willow
Rosmarinus officinalis 'Benenden Blue'
'Benenden Blue Upright Rosemary
x Chitalpa tashketensis 'Morning Cloud'
Morning Cloud Chitalpa
Rosmarinus officinalis 'Prostratus'
Trailing Rosemary
x Chitalpa tashketensis 'Pink Dawn'
Pink Dawn Chitalpa
Rosmarinus officinalis 'Renzels'
Renzels Trailing Rosemary
Clematis lasiantha
Pipestems
Rosa 'Highveld Sun'
Highveld Sun Groundcover Rose
Coreopsis verticillata 'Moonbeam'
Moonbeam Threadleaf Coreopsis
Rudbeckia fulgida ' Goldsturm'
Goldsturm Black-Eyed Susan
Crocosmia x crocosmiiflora 'Emberglow'
Emberglow Crocosmia
Salvia apiana
White Sage
Crocosmia x crocosmiiflora 'George Davidson'
George Davidson Crocosmia
Salvia azurea grandiflora
Prairie Sage
Cylindropuntia imbricata
Tree Cholla
Salvia 'Bee's Bliss
Bee's Bliss Creeping Sage
Cynara cardunculus
Cardoon
Salvia chamaedryoides
Germander Sage
Dianthus cruentus
Blood Pinks
Salvia clevelandii
Cleveland Sage
Digitalis grandiflora
Perennial Foxglove
Salvia clevelandii 'Pozo Blue'
Pozo Blue Sage
Echinacea purpurea
Purple Coneflower
Elsholtzia stauntonii
Chinese Mint Shrub
Salvia coahuilensis
Coahuila Sage
Erica x darleyensis
Darley Dale Heath
Salvia elegans 'Honey Melon' Honey Melon Pineapple Sage
Erigeron glauca 'Wayne Roderick'
Seaside Daisy

Salvia forskaohlei
Indigo Woodland Sage
Erysimum 'Bowles Mauve'
Bowles Mauve Wallflower

Salvia greggii 'Pink'
Pink Autumn Sage
Euphorbia characias
Mediterranean Spurge
Salvia greggii 'Red'
Red Autumn Sage
Euphorbia martinii 'Red Martin'
Red Martin Spurge
Salvia x jamensis 'Sierra de San Antonio'
Sierra de San Antonio Sage
Foeniculum vulgare rubrum 'Smokey'
"Smokey"Bronze Leaf Fennel
Salvia x jamensis 'Hotlips'
Hotlips Sage
Fremontodendron californicum x mexicanum'California Glory'
California Glory Flannel Bush
Salvia microphylla 'Smoky Red'
Little Leaf Sage
Geranium cantabrigiense 'Rosalina'
Rosalina Crane's Bill
Salvia sclarea var turkestanica alba 'Vatican White'
Vatican White Clary Sage
Hamamelis vernalis
Vernal Witch Hazel
Salvia spathacea
Hummingbird Sage
Helenium autumnale 'Red & Gold'
Helen's Flower
Salvia Transylvanica
Transylvanian Sage
Helianthus 'Lemon Queen'
Lemon Queen Perennial Sunflower'
Sanguisorba minor
Salad Burnet

Heteromeles arbutifolia
Toyon
Sambucus mexicana
Western Blue Elderberry
Heuchera x briziodes 'Bressingham Hybrids'- Coral
Coral Bells
Santolina rosmarinifolia 'Lemon Fizz'
Lemon Fizz Lavender Cotton
Heuchera micrantha
Alum Root
Satureja montana
Winter Savory
Hibiscus lasiocarpos
California Hibiscus
Scabiosa caucasica 'Fama'
Pincushion Flower
Hoita macrostachya
Leather Root
Scabiosa columbaria 'Pink Mist'
Pink Mist Pincushion Flower
Holodiscus discolor
Cream Bush
Sedum 'Bertram Anderson'
Bertram Anderson Stonecrop
Hymenoxys hoopesii
Owl's Claws
Sedum dasyphyllum 'Major'
Corsican Stonecrop
Hyssopus officinalis
Hyssop
Sedum 'Frosty Morn'
Autumn Stonecrop
Jasminum mesnyi
Primrose Jasmine
Sedum humisifusum 'Tiny Urchin'
Tiny Urchin Stonecrop
Keckiella cordifolia
Heart Leaf Penstemon
Sedum moranense
Red Stonecrop
Knautia macedonica
Knautia
Sedum obtusatum
Sierra Stonecrop

Laurus nobilis
Bay Leaf, Sweet Bay Laurel

Sedum spathulifolium 'Cape Blanco'
Cape Blanco Stonecrop
Lavandula angustifolia 'Hidcote'
Hidcote English Lavender
Sedum spectabile 'Matrona'
Matrona Stonecrop
Lavandula angustifolia 'Purple Bouquet'
Purple Bouquet English Lavender
Sedum sediforme
Pale Stonecrop

Lavandula x chaytorae 'Lisa Marie'
Lisa Marie Dwarf English Lavender
Sedum sieboldii
October Daphne
Lavandula ginginsii 'Goodwin Creek Gray'
Goodwin Creek Lavender
Lavandula x intermedia 'Alba'
White Grosso Lavendin
Sedum 'Autumn Joy'
Autumn Joy Stonecrop
Lavandula x intermedia 'Grosso'
Grosso Lavendin
Sedum 'Vera Jameson'
Vera Jameson Stonecrop
Lepechinia hastata
Baja Pitcher Sage
Solidago canadensis
Canada Goldenrod
Lespedeza virginica
Slender Bush Clover
Spiraea (densiflora) splendens
Mountain Spirea
Linum perenne lewisii
Blue Flax
Teucrium x Ackermanii
Silver Germander
Lonicera x heckrotii 'Goldflame'
Goldflame Honeysuckle
Teucrium cossoni-majoricum
Creeping Germander
Lonicera interrupta
Chaparral Honeysuckle
Teucrium flavum
Yellow Germander
Mimulus aurantiacus
Sticky Monkey Flower
Teucrium fruticans
Bush Germander
Monardella macrantha
Scarlet Monardella
Teucrium hyrcanicum 'Purple Tails'
Caucasian Germander
Monardella odoratissima
Mountain Pennyroyal
Thymus citriodora
Lemon Thyme
Monardella villosa
Coyote Mint
Thymus longicaulis
Turbo Thyme
Nepeta faasenii-Dwarf
Dwarf Catmint
Thymus vulgaris
English Thyme
Nepeta faasenii 'Walker's Low'
Walker's Low Catmint
Triteleia laxa 'Corrina'
Ithurial's Spear, Fool's Onion', Grass Nut
Nepeta tuberosa
Spanish Catmint
Verbena bonariensis
Purple Top Vervain
Ocimum basilicum 'Cinnamon'
Cinnamon Basil
Ocimum basilicum citriodora 'Mrs. Burn's Lemon'
Mrs. Burns Lemon Basil
Vitex agnus-castus
Chaste Tree
Ocimum basilicum 'Dark Opal'
Dark Opal Basil
Ocimum basilicum 'Lettuce Leaf',
Lettuce Leaf Basil
Zauschneria californica
California fuchsia
Ocimum basilicum 'Red Rubin'
Red Rubin Basil
Zauschneria californica 'Catalina'
Catalina California Fuchsia
Ocimum basilicum
Sweet Basil
Zauschneria californica 'Solidarity Pink'
Solidarity Pink California Fuchsia
Ocimum basilicum var. thyrsiflora
Thai Basil
Zauschneria latifolia
(Epilobium latifolium)
California Fuchsia
For more helpful tips, see this brochure put out by the U.S. Fish and Wildlife Service