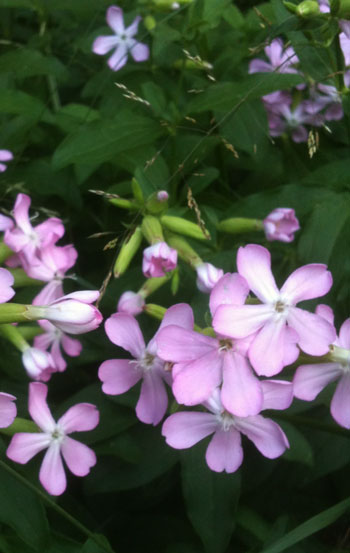 The oldest medicine, herbs have been used for centuries for their healing properties. Many are still used in this way, while many of the traditional uses of herbs have been lost and the plants now grown strictly ornamentally or for their culinary uses. Either way, the traditional use of herbs is a fascinating study, and one that practitioners devote years to. Herbalism is a venerable practice requiring much knowlege and wisdom, and while novices should avoid the use of some herbs for their healing properties, many are widely accepted as safe to use, such as peppermint tea to aid in digestive issues. While we don't reccomend unguided use of herbs for more serious ailments, with research and assitance many are perfectly fine to use and quite effective.

Listed by botanical name below are some of the traditional herbs in the catalog. For strictly culinary herbs, see the edibles page. To search for plants by common name, use the alphabetical navigation at the bottom of the page.


Click on your selection to learn more about the plant.
Achillea millefolium ''Red Velvet'
Red Velvet Yarrow
Ocimum basilicum 'Red Rubin'
Red Rubin Basil
Achillea millefolium "Sunny Seduction"
Sunny Seduction Yarrow
Ocimum basilicum
Sweet Basil
Achillea millefolium 'Terra Cotta'
Terra Cotta Yarrow
Ocimum basilicum var. thyrsiflora
Thai Basil
Agastache 'Apricot Sunrise'
Apricot Sunrise Anise Hyssop
Oenothera perennis
Little Evening Primrose
Agastache 'Golden Jubilee'
Golden Jubillee Anise Hyssop
Origanum aurea
Creeping Golden Marjorum
Agastache rupestris
Sunset Hyssop
Origanum laevigatum 'Hopley's Purple'
Hopley's Purple Ornamental Oregano

Allium schoenoprasum
Grassleaf Garden Chives
Origanum marjorana
Sweet Marjorum
Allium shoenoprasm 'Forescate'
Giant Garden Chives
Origanum rotundifolium
Roundleaf Oregano
Allium senescens glauca
Corkskrew Onion
Perilla frutescens
Red Shiso
Petroselinum crispum
Flat Leaf Italian Parsley
Anethum gravolens
Dill
Phyla nodiflora
Turkey Tangle Frog Fruit
Borago officinalis
Borage
Phlomis russeliana
Jerusalem Sage
Brassica juncea
Giant Purple Mustard

Plantago major 'Rubra'
Giant Purple Leaf Plantain
Cilantro
Coriandrum sativum
Prunella vulgaris spp. lanceolata
Self-heal
Cynara cardunculus
Cardoon
Rosmarinus officinalis 'Benenden Blue'
'Benenden Blue Upright Rosemary
Cynara scolymus 'Green Globe'
Green Globe Artichoke
Rosmarinus officinalis 'Prostratus'
Trailing Rosemary
Cynara scolymus 'Violette du Provence'
Violette du Provence purple Artichoke
Rosmarinus officinalis 'Renzels'
Renzels Trailing Rosemary
Cynara scolymus 'Purple of Romagna'
Artichoke, Purple of Romagna

Rumex sanguineum 'Raspberry Dressing'
Red Veined Sorrel
Echinacea purpurea
Purple Coneflower
Salvia azurea grandiflora
Prairie Sage
Filipendula hexapetala (vulgaris)
Meadowsweet
Salvia apiana
White Sage
Foeniculum vulgare rubrum 'Smokey'
"Smokey"Bronze Leaf Fennel
Salvia chamaedryoides
Germander Sage
Fragaria californica
Woodland Strawberry
Salvia clevelandii
Cleveland Sage
Hamamelis vernalis
Vernal Witch Hazel
Salvia coahuilensis
Coahuila Sage
Hyssopus officinalis
Hyssop
Salvia elegans 'Honey Melon'
Honey Melon Pineapple Sage

Laurus nobilis
Sweet Bay Laurel
Salvia forskaohlei
Indigo Woodland Sage
Lavandula angustifolia 'Purple Bouquet'
Purple Bouquet English Lavender
Salvia greggii 'Pink'
Pink Autumn Sage
Lavandula angustifolia 'Hidcote'
Hidcote English Lavender
Salvia officinalis 'Berggarten'
Berggarten Garden Sage
Lavandula x chaytorae 'Lisa Marie'
Lisa Marie Dwarf English Lavender
Salvia officinalis 'Purpurea'
Purple Leaf Sage
Lavandula ginginsii 'Goodwin Creek Gray'
Goodwin Creek Lavender
Salvia sclarea var turkestanica alba 'Vatican White'
Vatican White Clary Sage
Lavandula x intermedia 'Alba'
White Grosso Lavendin
Salvia x jamensis 'Sierra de San Antonio'
Sierra de San Antonio Sage
Lavandula x intermedia 'Grosso'
Grosso Lavendin
Limonium latifolium
Sea Lavender, Perennial Sea Statice
Salvia x jamensis 'Hotlips'
Hotlips Sage
Linum perenne lewisii
Blue Flax
Salvia Transylvanica
Transylvanian Sage
Melissa officinalis
Lemon Balm
Sanguisorba minor
Salad Burnet
Mentha piperata
Peppermint
Santolina rosmarinifolia 'Lemon Fizz'
Lemon Fizz Lavender Cotton
Mentha suavolens variegata
Pineapple Mint
Satureja montana
Winter Savory
Monardella odoratissima
Mountain Pennyroyal
Saponaria officinalis
Soapwort
Monardella villosa
Coyote Mint
Solidago canadensis
Canada Goldenrod
Nepeta faasenii-Dwarf
Dwarf Catmint
Teucrium cossoni-majoricum
Creeping Germander

Nepeta faasenii 'Walker's Low'
Walker's Low Catmint
Teucrium fruticans
Bush Germander

Ocimum basilicum 'Cinnamon'
Cinnamon Basil
Teucrium flavum
Yellow Germander
Ocimum basilicum 'Dark Opal'
Dark Opal Basil
Thymus citriodora
Lemon Thyme
Ocimum basilicum citriodora 'Mrs. Burn's Lemon'
Mrs. Burns Lemon Basil
Thymus vulgaris
English Thyme
Ocimum basilicum 'Lettuce Leaf',
Lettuce Leaf Basil
Vitex agnus-castus
Chaste Tree