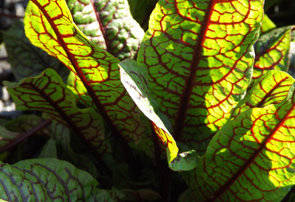 There is little more satisfying that growing your own fresh fruits, vegetables, and herbs. The true prize after the work of weeding, cultivating, and planting is the leisurley tour through the garden, surveying what is ripe and ready for supper. The ultimate in freshness, fruit, veggies and greens that go straight from the garden to the table are beyond compare for flavor and healthfulness.
At The Garden Company, we are always on the look out for interesting perennial edibles that provide a creative opportunity in your landscaping as well as for your table. The list below contains edibles that will grace your garden for many years to come, as well as some of the standard seasonal edibles we grow. If you prefer to seach by botanical name, use the alphabetical links at the bottom of the page. Contact us if you'd like information about our organic annual veggie starts.
Click on your selection below to learn more.

Perennial Edibles

(Annual edibles are too seasonal to be listed here. Contact us for availability)

Artichoke, Green Globe
Cynara scolymus 'Green Globe'
Huckleberry, Evergreen
Vaccinium ovatum


Artichoke, Purple of Romagna
Cynara scolymus 'Purple of Romagna'
Mint Shrub, Chinese
Elsholtzia stauntonii

Artichoke- Violette du Provence
Cynara scolymus 'Violette du Provence'
Mulberry, Red
Morus rubra
Photo courtesy of Wikimedia Commons/ Leon Adler
Pawpaw
Asimina triloba
Photo courtesy of USDA ARS

Blueberry- Misty Southern Highbush
Vaccinium corymbosum 'Misty'
Pomegranate, 'Wonderful
Punica granatum 'Wonderful'

Bramble, Creeping
Rubus pentalobus

Prickly Pear, Low
Opuntia humifusa
Cardoon
Cynara cardunculus
Quince, Fruiting
Cydonia oblonga
Currant, Golden
Ribes aureum



Rhubarb, Victoria
Rheum x hybridum 'Victoria'
Currant, Sierra
Ribes nevadense

Rose, Ramanas
Rosa rugosa
Elderberry, Western Blue
Sambucus mexicana
Salad Burnet
Sanguisorba minor
White Fig
Ficus carica

Service Berry, Western
Amelanchier alnifolia
Fig, Brown Turkey
Ficus carica 'Brown Turkey'

Sorrel, Red Veined
Rumex sanguineus
Fennel, Bronze Leaf 'Smokey'
Foeniculum vulgare rubrum 'Smokey'

Strawberry, Woodland
Fragaria californica
Grape, California Wild
Vitis californica
Swiss Chard- Burgundy
Beta vulgaris 'Burgundy

Grape, Concord
Vitis labruska 'Concord'

Swiss Chard- Fordhook Giant
Beta vulgaris 'Fordhook Giant'


Grape, Flame Seedless
Vitis vinifera 'Flame'
Thimbleberry
Rubus parviflorus
Grape, Thompson's Seedless Vitis vinifera 'Thomson's Seedless'
Yellowhorn
Xanthoceras sorbifolium




Culinary Herbs


Anise Hyssop, 'Apricot Sunrise'
Agastache 'Apricot Sunrise'
Lavandula x intermedia 'Alba'
White Grosso Lavendin
Anise Hyssop, Agastache'Golden Jubilee'
Agastache foeniculum 'Golden Jubilee'
Lavendin, Grosso
Lavandula x intermedia 'Grosso'
Basil, Cinnamon (annual)
Ocimum basilicum 'Cinnamon'

Lemon Balm
Melissa officinalis

Basil, Dark Opal (annual)
Ocimum basilicum 'Dark Opal'

Marjorum, Creeping Golden
Creeping Golden Marjorum
Basil, Lettuce Leaf (annual)
Ocimum basilicum 'Lettuce Leaf',

Marjorum, Sweet
Origanum marjorana

Basil, Mrs. Burns Lemon (annual)
Ocimum basilicum citriodora 'Mrs. Burn's Lemon'

Mint; Peppermint
Mentha piperata
Basil, Red Rubin (annual)
Ocimum basilicum 'Red Rubin'

Mint, Pineapple
Mentha suavolens variegata
Basil, Sweet (annual)
Ocimum basilicum

Parsley, Flat Leaf Italian
Petroselinum crispum
Basil, Thai (annual)
Ocimum basilicum var. thyrsiflora

Peppermint
Mentha piperata
Bay Leaf, Sweet Bay Laurel
Laurus nobilis

Plantain, Giant Purple
Plantago major 'Rubra'

Chives, Grassleaf Garden
Allium schoenoprasum

Rosemary'Benenden Blue' Upright Rosmarinus officinalis 'Benenden Blue'

Chives, Giant Garden
Allium shoenoprasm 'Forescate'
Rosemary, Creeping
Rosmarinus officinalis 'Prostratus
Rosemary, Renzels Trailing Rosmarinus officinalis 'Renzels'

Cilantro
Coriandrum sativum

Sage, Honey Melon Pineapple
Salvia elegans 'Honey Melon'
Dill
Anethum gravolens


Sage, Berggarten Garden
Salvia officinalis 'Berggarten
Fennel, Bronze Leaf 'Smokey' Foeniculum vulgare rubrum 'Smokey'

Salvia officinalis 'Purpurea'
Purple Leaf Sage
French Tarragon
Artemesia dracunculus sativa
Salad Burnet
Sanguisorba minor
Savory, Winter
Satureja montana

Hyssop
Hyssopus offcinalis
Shiso,Red
Perilla frutescens



Lavender, English , Purple Bouquet
Lavandula angustifolia 'Purple Bouquet


Sunset Hyssop
Agastache rupestris


Lavender, English , Hidcote
Lavandula angustifolia 'Hidcote'

Thyme,English
Thymus vulgaris


Lavandula x chaytorae 'Lisa Marie'
Lisa Marie Dwarf English Lavender

Thyme, Lemon
Thymus citriodora

'