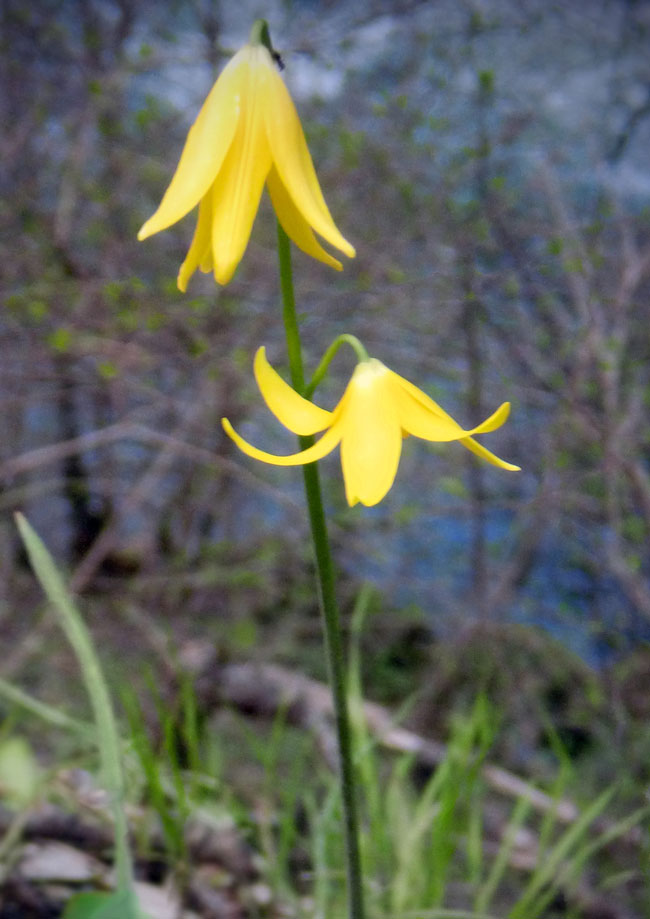 It has been said that the more names that exist for a thing, the more beloved it is. Fawn Lily, also known as Trout Lily, Dog Tooth Violet, Adder's Tongue, and Glacier Lily, is all the more endearing because of its ephemeral nature. Where shadow prevails, the Fawn Lily emerges, brightening, at least for a short time, woodlands both deep and open.The glow of the delicate recurved petals, which are actually tepals, hovers quiety over the duff, giving the impression of stray sunbeams filtering through the canopy above.

Born the hybrid of Erythronium tuolumnse, named for our own Tuolumne County and both endemic and endangered there, and Erythronium californicum, the selected cultivar 'Pagoda' brings vigor to one of the most delicate of our woodland flowers. Growing larger, flowering more and colonizing more rapidly, Pagoda puts this lovely bloom within reach of the average gardener. While enjoying fawn lilies in their natural habitat is a wonderful experience, it is especially difficult to do so in the case of E. tuolumnense, which is listed by the California Native Plant Society as rare and endangered by human activity. Why not, then, cultivate your own patch of these woodland lovelies? As spring blooming bulbs go, it is one of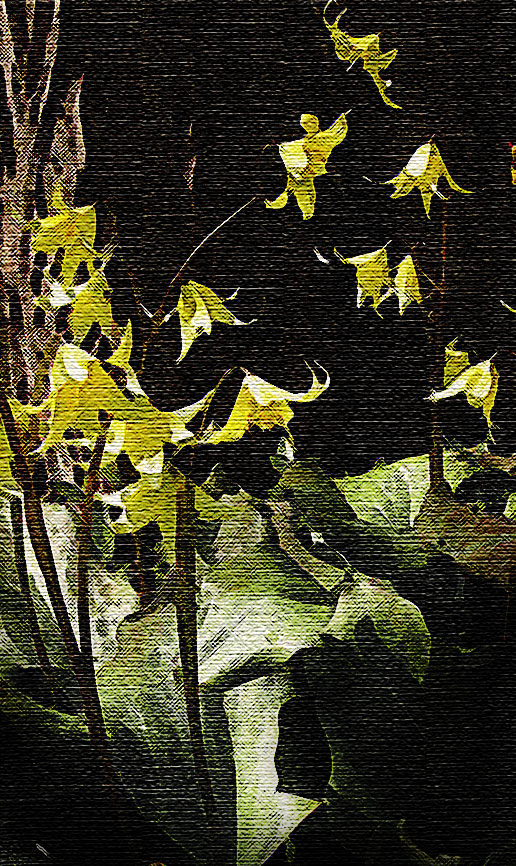 the fairest and finest.

Enjoying moist soil containing plenty of humus, the fawn Lily will thrive in dapple shade or morning sun. Seeing to their own needs, if sited well they will not need additional care and will spread to form an patch of sweet springtime blossoms. Standing as much as two feet above the broad foliage, the sulfur yellow blooms appear in April, continuing for a few weeks and then disppearing, together with the rest of the plant, for the summer. Lovely planted together with Coral Bells and Columbines, something that allows the plants with a summer presence to take over when the Fawn Lilies have gone. Although their fleeting appearance suggests that they are shy, Pagoda is actually rather bold, making quite the statement in a shaded garden. Highly recommended.