Some of the loveliest shrubs of the California native wildlands are the currants. With their upright, sinuously muscular form and delicate, pendulous blossoms, the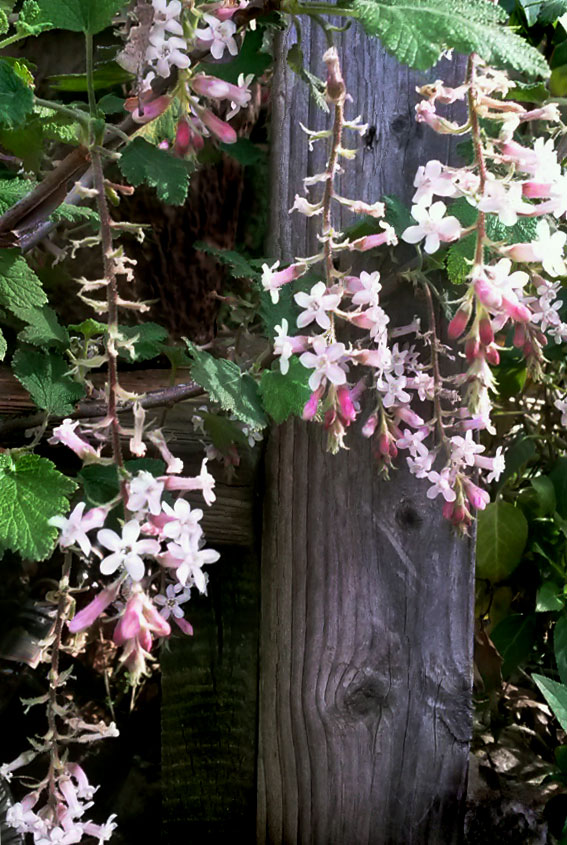 y manage to be both rugged and refined at the same time. Often found brightening early spring landscapes where little else is in bloom, they seem to most enjoy making their homes in the dappled shade of woodland and forested areas. Beautiful enough for any horticultural setting, they are wildly under-used plants that are easily at home in gardens. Chaparral Currant, considered to be the most drought and sun tolerant of the pink currants, is no exception.
One of the earliest of the California currants to bloom, the sparkling pink to white blossoms of 'Dancing Tassels' appear in winter, often as early as November or December, and frequently continue blooming through March. Appearing in 4-5 inch long, graceful racemes, the sweetly scented, tubular blooms are a sight for sore eyes in the still of winter, but perhaps even more importantly, they also function as botanical winter bird feeders, nectar rich and quite obviously designed to please the ample hummingbirds they supply through the cold winter months.
Thriving in the partial shade of native oaks, Chaparral Currant appreciates a bit of shade in hot interior locations like ours, though does quite well in full sun in cooler areas. Briefly deciduous or semi-evergreen, the old leaves are often replaced as soon as they drop, assuring that the shrub maintains its woodsy presence throughout the year. The foliage itself, lobed and lightly quilted, is quite aromatic and can even be incorporated into teas where its unique spicy sweet flavor is desired. Chaparral currant is drought tolera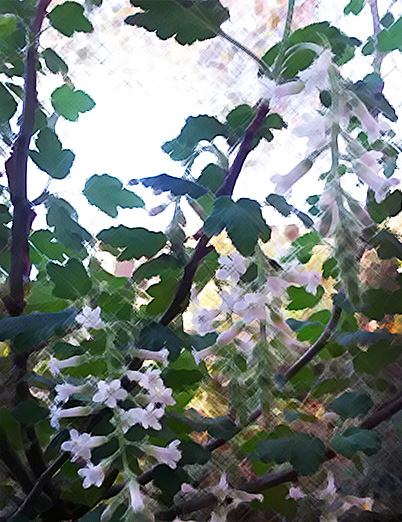 nt and occurs in dry areas such as chaparral and oak woodlands in nature, but, as is true for many California native plants, will go summer dormant in order to weather the tribulations of a hot, dry summer if necessary. It gardens, it will grow quite nicely with occasional summer water and a layer of mulch at its feet. Fast growing, it will reach its full size of 6-8' high and wide in short order where it is happy. Truly a feature plant, the vibrance it brings to the short days of winter are a delight to be enjoyed by cool season garden tenders anywhere it grows.
Simply lovely.